NEW VC Repertory Version 0.8 is online!
The VC Repertory is growing in quality!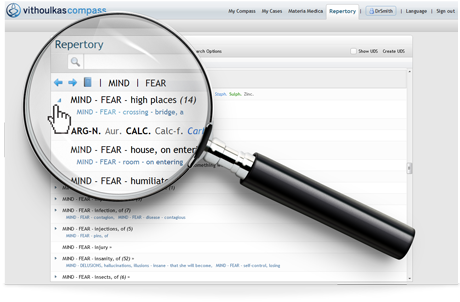 A new method of work to achieve a new level of accuracy

After more than 5 years of research and assesment of homeopathic repertories, the VC team has raised the standard for repertory development.The challenging task of working with such a large and detailed set of important data has been organised using special software and dedicated resources. 
By combining information from:
Reliable, high quality classical resources 
Continuous study of the case archives of the IACH 
The clinical experience of a large team of experienced classical homeopaths
Statistical analysis of the VC user cases database
And cross-checking and benchmarking it against a very large set of reference cases under the guidance of Professor George Vithoulkas, The VC Repertory is setting new standards of quality in homeopathic repertories.
The result of this groundbreaking work for the practicing homeopath is a true reference repertory with the lowest levels of noise (invalid and unconfirmed rubrics) and truly coherent grading of the remedies. It is clearly the repertory of choice for practitioners who value accuracy and consistency for their practice. 
The upgrade which we just put online brings a good part of the Repertory to a higher level of completeness.            
Approximately 150 of the larger remedies have been thoroughly reviewed at a great level of detail using our new approach
The consistency and coherence in remedy grades of several repertory chapters and 'branches' was reviewed and updated
Rubrics have been corrected for clearer meaning 
The new upgrade offers a measurable increase in performance to VC, adding to its already unique accuracy. 
We remain committed to provide to the community the first Confirmed Repertory and our team is working every day towards this vision. The feedback from our users and the realisation that our work is changing the face of homeopathy are guiding us in setting new standards in repertory development.
We would like to thank our users for the great feedback, their enthusiasm about VC and the sharing of our vision!
---