New VithoulkasCompass v3.1!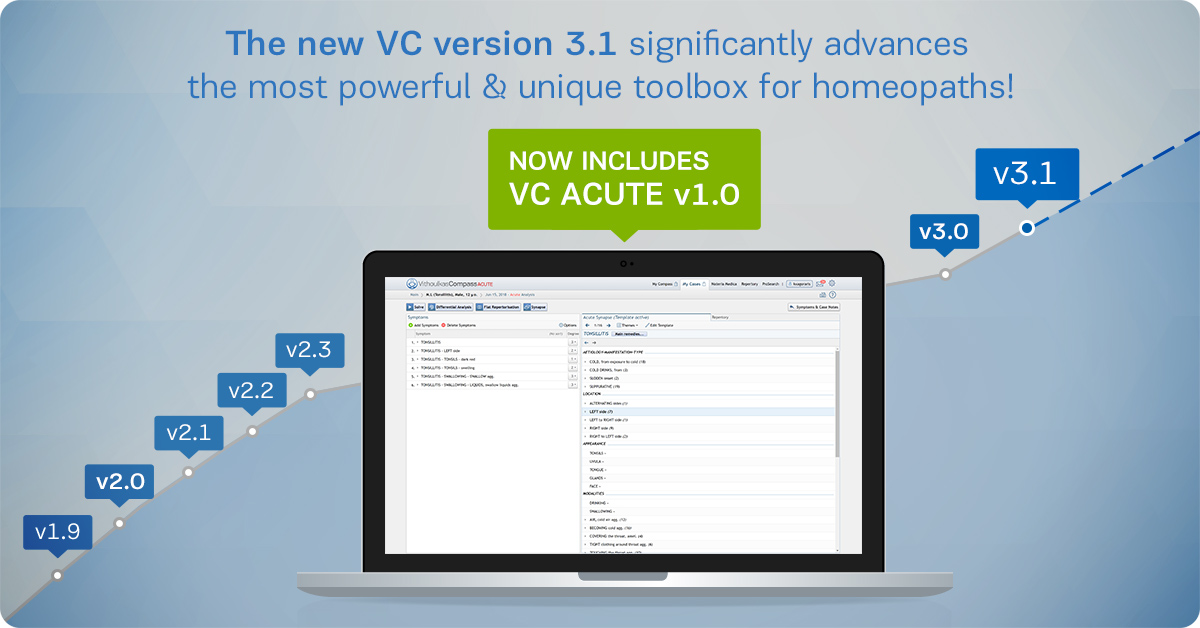 VCAcute expert system 1.0
The VC Acute is not in beta phase anymore! After the addition of differential analyses of acute pathologies for the main remedies, a very important resource for acute cases, and the intensive development of the acute repertory over the last year, VCAcute has finally attained version 1.0 and is available to all users. Our acute cases database has already reached thousands of cases and the VC team has initiated the application of the evidence-based methodology which has been used for the continuous improvement of the general VC system.
A new, significantly improved version of the VC expert system Brain
This latest brain upgrade is a significant step forward in the performance of the VC expert system, as it includes new parameters which bring VC closer to the thinking process of a master homeopath. We are continuously improving and innovating in this area.
VCAcute Synapse workflow
Maximise your reliability and productivity. Start from a pathology and ask all the relevant questions. The Synapse workflow has been a big success for the general VC system, as it combines pathologies with themes of repertorisation and repertory content. In VCAcute the pathology analysis texts even further guide the user towards the best choice of remedy.
Remedy relations information tool
Instantly check any remedy for interactions with other remedies and previous prescriptions. Every succesful homeopath is aware of the importance of the knowledge of antidoting, complementary and inimical remedies, as well as other information which involves remedy relations and which might be critical for a succesfull prescription.
Prescription filter in Case History. Instantly check if a remedy has been previously prescribed in the past. Developed by popular demand and especially useful in long case histories.
A new MyCompass toolbar which offers one-click functions and is very practical for all VC functions.
In addition there are numerous improvements, corrections and small additions which have been added to the system to make VC faster, smoother and more reliable from all usage platforms (fixed and mobile).
We hope that all our users benefit significantly from this upgrade. The team is already working for the next steps, always looking to improve and innovate. Our upgrades will continue to offer exciting and substantially useful functionalities, and as always, we are welcoming propositions and general suggestions for future VC versions.
---