The all new VC version 3.0! A major step forward for homeopathy.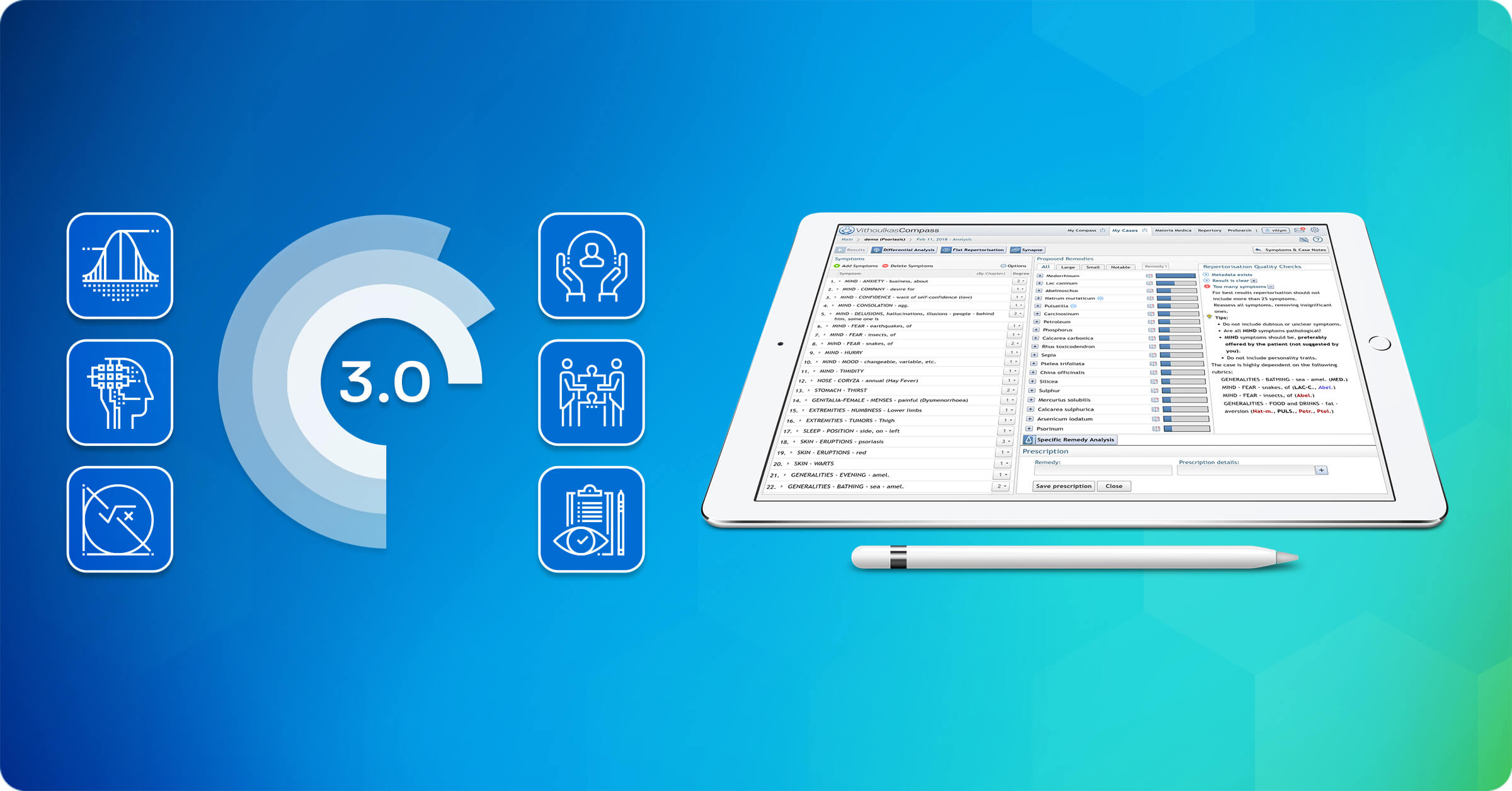 The all new Vithoulkas Compass 3.0, the first homeopathy software to use big data and statistical analysis in an expert system is now online, offering state-of-the-art functionality to the homeopathy community.
We are confident that existing users will find the new version an important step forward, and we are inviting older users and all homeopaths to try what is now the smartest, most complete and most researched homeopathy software available!
The repertory and brain functions of V3.0 have incorporated more extensive use of statistics from our cases database. This work results in the most statistically confirmed repertory, on which homeopaths can truly rely, and a smarter unique expert system, which provides the user with accurate results, ideas about remedies, how to proceed with a consultation, and information about their case like no other program.
✔ New Confirmed Repertory version: More than 7,000 corrections and additions, using statistical data from user follow-ups, feedback from a team of experienced first line homeopaths and suggestions from our users. All repertory improvements are carefully analysed and confirmed with some of the best practitioners in the field. Our vision and work for the Repertory is explained in our Research Bulletins (http://bit.ly/vcrb3), published yearly.
✔ New powerful Repertory tools: Brings you maximum convenience and flexibility enabling you to analyze and compare remedies in the Repertory.
✔ Expert System Brain with further optimization & features: Our unique Brain is now even more sophisticated, always scientifically calibrated using real world cases, and provides more suggestions in the Differential Analysis and Specific Remedy Analysis modes.
✔ A big leap in acute prescribing support with the NEW VC Acute Expert System:
One of our major projects during the previous year was to upgrade VCAcute with a new improved repertory and very useful text analyses which present the notable remedies for every pathology.
✔ HomeoProSearch: VC now includes the first search engine specially developed for homeopaths. Access the most reliable resources on the net and focus your search on Materia Medica information, acute prescribing resources, online cases etc. Also available outside VC at www.homeoprosearch.com
✔ Redesigned My Compass screen: The new homepage will keep you informed of your messages and received cases but also keep you updated with the latest news of homeopathy from around the world.
✔ Many other improvements: This now means a smoother, faster and nicer user experience overall, from any device, fixed or mobile. All these additions and corrections to VC have been designed to keep the program clear, simple and intuitive to use.
---