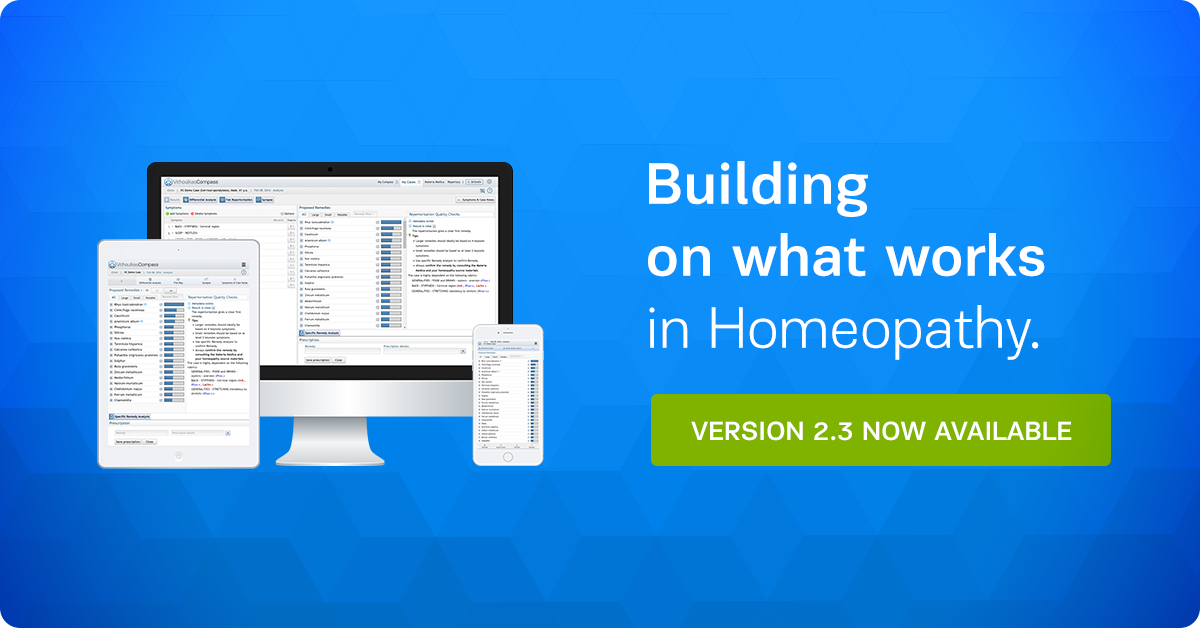 We are very happy to announce that an important new update to VC is now online!
 
VC version 2.3 brings to your hands a new level of performance and refinement, representing our focus on the continuous improvements in every aspect of the program, as well as the usage of contributions coming from the VC user community.
We can confidently say that the system has now matured to a level which clearly puts it at the top of all homeopathic programs, in effectiveness, technology, scientific backing and usability.
 
Version 2.3 includes the following changes:
 
New Repertory version
 
The VC Repertory has more than 8,000 new additions and corrections, in remedy degrees, new remedies in rubrics or newly added rubrics.
We have included many of your suggestions (after they were thoroughly checked and confirmed), along with data coming from the statistical analysis of our 350,000 cases database. Our vision of maximum quality and coherence in parallel with minimum noise, has resulted in a repertory which will guide you to the optimum remedy with superlative accuracy.
 
New, optimised expert system Brain
 
The new version of the Brain has been benchmarked against our growing reference set of cases and optimised after running tens of thousands of solutions.
       
New Synapse Workflow organisation
 
Our very popular Synapse Workflow has been updated according to your suggestions and the analysis of its usage in the last 6 months.
A truly unique feature being improved to help you repertorise with more confidence.
 
New Smartphone and Tablet interfaces
 
Many small visual improvements and a new, more efficient results and remedy analysis page.
 
Many small changes towards better stability and clarity
 
New visual layout in several functions, much improved visual elements for high resolution displays (such as Retina-class iPads, newer smartphones etc.), new VCAcute follow-up template and many other small updates throughout the application.
 
We hope that you enjoy the new version and that the improvements will prove significantly positive, as they did for our testing team.
As always we welcome your feedback and suggestions for the next versions.
In the meantime, we will be working on exciting new areas for version 2.4 which will come very soon.

---